Archive for April, 2012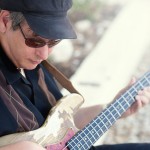 Wow: just amazing. Tommy Shannon's birthday bash.
Wednesday night the musicians came together at Antone's to throw one hell of a party and we the fans got to be there to watch the magic happen. It was the top notch players that came together for a night of fun, celebration and to play with their buddy Tommy Shannon. There was Eightysixxed, Krackerjack, Jimmy Vaughn, Storyville, Joe Ely, and a set with Tommy Shannon, Chris Layton, Reese Wynans, David Holt, Bill Carter and Malford Milligan. The night was topped off with the Blue Tuesday Band: Derek O'Brian, Denny Freeman, Riley Osborn, Tommy Taylor, Rosco Beck, Van Wilks, Will Sexton and Malford Milligan.
I found what I have been missing from the music scene lately: a passion of the craft, the honest emotions in the songs and the talent that has been honed through the years of playing together. It was beautiful to see a crowd that spanned the decades: from 8 to 70. They were all enjoying the music, watching and anticipating the next magical moment on stage and the musicians kept them enthralled all night long.